TERMINAL POINT IS IN THE WILD!!!

It's release day and I'm alternating between freaking out and being ridiculously excited. I really hope the story answers everyone's lingering questions and that no one wants to kill me over the ending.

I'm still kind of stunned that it's out there. It's surreal and crazy and holy shit guys, MY SECOND BOOK MADE IT OUT OF MY HEAD!!!

Please go out and support your crazy author by buying it! If you've already bought it, please think about doing a review on Amazon or Good Reads? Reviews are important to get other readers interested and it's a great way to show your support of an author (other than buying the book!)

And in case anyone asks, hardcover or ebook format both count as sales, so you can pick it up either way. Had that asked a few times on Twitter. Not sure what counts toward getting on any kind of list, but as I don't have that worry yet, yeah. Every way is good!

Anyway. Guys. I'm going to drink my coffee, soak in the excitement for a bit, then start to panic. Luckily, I have my towel.
Guys. GUYS.


Please send me your contact info to the following email: kmruizwriter [at] gmail

As for everyone else, thanks so much for participating! I'm going to dive into all the new music after I move.

Remember, TERMINAL POINT comes out June 19, but feel free to pre-order anywhere you like! Also, when it does come out and if you buy it, please think about doing a review on Amazon or Goodreads or both? You can say whatever you want, if you like it, love it, or just plain hate it. Every opinion is valid because hey, readers are allowed that, full stop.

Thanks everyone!
So the random number generator chose a winner! Darkcyril, the books are yours! Unfortunately, said books, along with everything else I own, are packed up in boxes and I will have to mail them next week after I move. Apologies!
To that end, I'm running a contest from now until
May 10, 2012
, MIND STORM's release day anniversary.
Contest is open worldwide.
The prize is a signed hardcover copy of MIND STORM and an ARC of TERMINAL POINT. I'll assign numbers in order of descending comments and use a random number picking app to choose the winner.
So here is how the contest is going to go! Below is a list of select songs that helped me write these books (either as mood music or character theme songs) that I wanted to share. I love music (who doesn't, right?), and I have utterly ridiculous taste in music (which shows), so in the comments, drop me your favorite song, your current song obsession, your all time favorite band or singer, and share your musical tastes with me. I'm always on the lookout for new music. You can comment more than once, but only your first comment counts towards the contest.
Remember, winner gets free books! Feel free to pass the contest around, too!
Also, I move next weekend on May 12, so getting the books mailed might not happen until the following Monday. But they WILL get mailed, I promise you! The playlist is behind the cut. A few songs are linked to YouTube because they weren't on the playlist site for me to download onto the list.
(
Music List
Collapse
)
So last year on May 10, 2011, MIND STORM was released. It was a very exciting time for me (with lots of congratulatory drinks and some liquid courage when applicable) and I can't believe it's been almost a year since it came out. Its sequel/conclusion, TERMINAL POINT, is due to be released next month on June 19 and I'm so excited to get it out there and share it with you guys.
Publisher's Weekly has its review for TERMINAL POINT over
here
. Seems to be a positive review, so yay!
In case anyone missed it, I've got chapter one of TERMINAL POINT up on my website. Go and read a sneak peak! Chapter is
this way
.
Also, in May, I'm going to have a one-year anniversary for MIND STORM where I'll give away a hardcover of the book and an ARC of TERMINAL POINT to the grand prize winner and two ARCS to two runner-ups. It's going to happen in the beginning of May (close to the time when I'm moving so if I seem a bit scatterbrained or if I seem like I'm forgetting, please people, kick me in my ass to get on it) so keep an eye out for it (and on me!).
TERMINAL POINT is close to feeling like it's official. If I wasn't so sick, I think I'd drink in its honor.
So it's that time of the year where reviews are going to start trickling in. TERMINAL POINT comes out on June 19, 2012 and I'm still as nervous for its release as I was for MIND STORM last year. At the moment, it helps that I'm so sick I really only care when my next box of tissues is gonna show up.
Current Music:

The sound of me hacking up a lung
Contest is
this way
.
Chance to win free stuff! Always good!
So Goodreads is having a give away for an ARC of TERMINAL POINT. If you want to win a free copy, they're giving away five. Go and enter! While you're at it, add it to a to-be-read pile if you're a member.
It's been awhile and I have been distracted by working on writing and dealing with all kinds of things in the realm of real life.
But despite all the craziness, I wanted to share an awesome review for MIND STORM!!! It made my weekend. Check out
SF Signal
and their post.
I'm hoping to post the first chapter of TERMINAL POINT sometime in the next few weeks if I can get clearance. I've an idea for an ARC contest as well, so I'll hopefully be blogging a bit more frequently if my day job allows it. Sadly, the job that pays the bills has to come first.
Hello dear world of craziness. I promise I live, despite the land of MSJ that wants to take me down.
Current Music:

Fun. - We Are Young


For anyone who might swing by this way, I'm eligible for the Hugo and Nebula in the novel category for:

1. My debut sci-fi novel Mind Storm, from Thomas Dunne Books/St. Martin's Press.

2. And this is the first year I'm eligible for the John W. Campbell Award.
That awkward moment when you realize, shit, I have to put my work out there and say yes, I can be considered for things. I'm really not good at this self-promotion stuff.


2011 was an awesome year, I have to say. Never going to be quite replicated. The one thing I wanted to do with my life happened when MIND STORM finally came out. I still love my day job and am thankful I've got a job. 2012 will hopefully be just as good. TERMINAL POINT comes out June 19, 2012 and I can't wait to share it with everyone.

Will be moving sometime between May and June because my lovely roommate and one of my best friends has decided to jump cities again. I'll miss her, but it's been a fun few years rooming with her. I'll still be staying in San Francisco because I'd lose cash moving to the East Bay and commuting into SF, and I've discovered that I really can't own a car. I've had a license since I was 17 but never had a car (never really needed one in the Bay Area) but driving my brother around over Christmas with a rental caused another bursitis flare up. Driving literally makes my body hurt. Ugh.

Hope everyone's New Year's went well and that any hangovers didn't last very long. Here's to 2012 and surviving past the apocalypse!
Bit late for a New Year's post, but what the hell. I spent the holiday a little ill but am mostly better now. Not one for a huge party or drinking to get drunk, so stayed home with a friend and watched movies with loud explosions. Drank one glass of wine because alcohol and a sore throat don't quite mix.
Check it out
here
.
Also, I have a release date for TERMINAL POINT! Mark your calendars for
June 19, 2012
. You'll have plenty of time to buy the second book of the Strykers Syndicate novels before the world ends in December. No pre-orders available yet, but once they're up and running, you can be sure I'll post about it.
In real life news, I have seen Sherlock Holmes 2 and wow. WOW. The gay is so not subtext. The wrong people totally got married in that movie. Is it too late to speak now before holding my peace forever? Also, I have seen the new German trailer for Avengers. It needs to be May. Like, now.
Okay, so, the really cool thing that happened this month was that MIND STORM got picked for Barnes & Nobles SciFi and Fantasy Blog's Best of Science Fiction in 2011. STOKED! I may be number 12 of 13, but I ain't complaining! Finding out made my Monday, to be quite honest.
Thing is, while most anime characters will have different colored eyes and hair and what some people term "Western" features (please, for the love of god, I don't even know why people try to justify that argument), practically every single one of those characters is Japanese. Doesn't matter how they're drawn, they are Japanese, and Hollywood? Sucks at staying true to the source material. Like, seriously, did we really need a remake of GIRL WITH THE DRAGON TATTOO or LET THE RIGHT ONE IN/LET ME IN? God forbid American audiences be asked to watch a foreign film with *gasps* SUBTITLES. (I'm one of those people who absolutely LOATHES dubbing. I prefer words on the screen to English words coming out of mouths that don't move right to form them. I will spend the entire movie watching faces and only half paying attention to plot and come away massively irritated.)
But anyway, whitewashing! That thing Hollywood does to strip every movie from actually representing the changing culture of America and shoving it down our throats that if you aren't white, then you don't exist except in secondary roles, in the background, as an afterthought because dude? Who in their right mind is gonna go to a movie to see a black lead? An Asian lead? A Mexican lead? Any other shade in the rainbow that's not white lead? Hollywood knows what's best for the audience, didn't you know?
Used to be they wouldn't even cast people with correct ethnicities in those roles. (See Mickey Rooney in BREAKFAST AT TIFFANY'S. I dare you not to cringe.) Now, if Hollywood does cast them, sometimes they go assbackwards about it. Case in point: THE LAST AIRBENDER. Oh, the fail that is in this movie. I'll leave it to the people over at
Racebending
to educate you on all the many ways this movie failed, not the least by giving all the good guy roles to white people and the bad guy roles to people who aren't white.
But, anyway, back to my love of anime. AKIRA is a classic. For the love of everything, don't touch the classics! But if you are, at least be respectful towards it. If you're going to do a live action version of the movie, why not be true to the source material? Why not give a whole bunch of the talented Asian actors in Hollywood a chance to front a movie with a built-in audience? I mean, come on, the studio is gonna make money regardless, but from how they're approaching this, they're trying to make it blockbuster level and that means, of course, stripping the movie of everything that
makes
this movie.
What the audience will get won't be AKIRA. It will be a caricature. So what the hell, Hollywood? Why not just call the movie JOHN?
In case you need visual aids:
This is the movie AKIRA, which, as I noted above, is entirely made up of Japanese characters:
This is the guy they want to play Kenada in the Hollywood remake: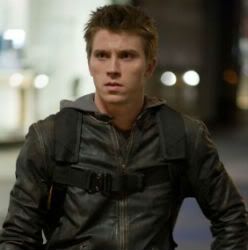 Garrett Hedlund
Yeah. I don't get it either.
I love anime the same way I love comics. Granted, I haven't seen any new series for a few years now, but I was the girl who'd rush home to watch Sailor Moon after school and couldn't wait for the weekend to come so I could watch Ronin Warriors as a kid. (I know, I'm totally dating myself here) I would stay up late to watch G-Force on Toonami (I won't get into the various versions of that show). When I hit college, I watched a ton of anime before I kind of got burned out on it and learned to moderate it. But I still love and appreciate it.